Come out for another fantastic Mobile Monday evening of professional networking, education, relaxation and live presentations from two of the most interesting companies shaping the future of Japan's mobinet.
Sponsored by: Morgan Lewis and Sarjam Communications
Mobile Broadcasting Corp. [.pdf]

Dr. Yoshitake Yamaguchi, the General Manager from Mobile Broadcasting Corp., will describe his company's first-ever provision of direct satellite-to-mobile data services spanning two major Asian markets as Mobaho! goes nose-to-nose with 3G cellular operators for a slice of mobile consumers' wallets. Mobile Broadcast is a JV led by Toshiba, SK Telecom and a grouping of technology companies, broadcasters, media players and content vendors and is helping set the standard for flat-rate data services that traditional ground-based providers will find tough to beat.
ColorZip Japan Inc. [.ppt]


Evan Owens, senior manager at ColorZip Japan and a long-time Japan market development pro, will present ColorCode, an innovative new way to use barcodes as more than just black-and-white data blobs. ColorCode technology will significantly boost options for mobile phones in advertising, marketing and public communication applications. ColorZip Japan is targeting a launch of its technology on Japanese television later this year. ColorZip will also be featured in an upcoming WWJ programme.
Huge New Venue: Ebisu Zest Cantina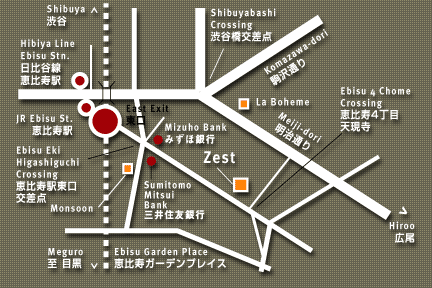 MONDAY, 18 APRIL 2005
Doors Open – 18:00
Networking – 18:30
Presentations – 19:15
More drinking Networking – 20:30 until last train home
Admission: FREE!
Snacks & drink ticket to first 100 registered.
Cash bar/menu thereafter.
Join over 150 fellow mobiheads for Tokyo's hottest mobile industry networking event!