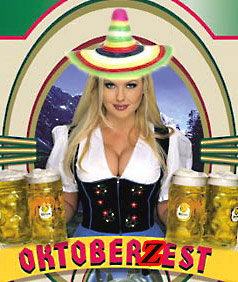 Get your sombreros and lederhosen out of the closet! MoMo Tokyo is set to take over Ebisu-Zest Cantina on Monday, 3 October, for another great event.
日本語版
We'll have two fantastic presentations – from G-Mode and Macromedia – blasting onto that monster-sized screen and WWJ chief editor Daniel Scuka will be back here in Tokyo, leading another mobile intelligence mission, so it's an evening not to be missed!
Applications are the heart of 3G and this event will highlight Flash and Java, the two heavyweights of cutting-edge, rich mobile content development. Make sure you complete the registration form below and we'll look forward to seeing you for some serious "OktoberZest" mobile networking… Mexican style!
Admission:
FREE with registration (below) — OR — pay JPY1,000 at the door
Guest presenters:
Hiro Higashiyama — Mgr. Overseas Business — G-Mode – .PPT HERE
"Java Game Play for Overseas Success"

Gaming is one of the most profitable and fastest-growing mobile content segments and enjoys cross-cultural acceptance worldwide. G-Mode is one of Tokyo's liveliest development houses and was founded when DoCoMo launched the first Java i-mode phones in 2001. Higashiyama-san will present on the gaming market, usage in Japan, usability factors and the company's success with delivering games to customers in Japan, Asia and Europe.
Akio Tanaka — VP and Tech. Advisor — Macromedia Japan – .PPT N/A

"Flash for Mobile Defines 3G Content"
Macromedia's Akio Tanaka and Dwight Rodgers, Senior Software Engineer, will present an update on the Flash mobile business in Japan including the recently launched NTT DoCoMo iChannel service, which is based on Macromedia's Flash Cast technology.
Sponsored by:
Morgan Lewis & Bockius and Jonckers Translation & Engineering
Date: Monday, 3 October 2005 :: 19:00 – 23:00
Venue: Ebisu Zest Cantina — GMAP English or Japanese
Admission: Free with registration below – Or – JPY1,000 at the door
Complimentary drink for all guests — a la carte food menu available
18:30 – Doors Open
19:00 – Welcome/introduction
19:15 – First presentation
19:30 – Second presentation
19:45 – Open forum/Q&A
20:00 – Networking
23:00 – Last call
Advanced Registration is now closed.. See you tonite.. 😎